SERUM
If you deal with blemished skin and outbreaks regularly, you know how frustrating it can be to keep those under control. Probably you've tried spot treatments, face washes, and oil-absorbing masks With all the claims skincare labels make, it can feel really confusing to find the products which work for you best. But there's one product you can absolutely benefit from if you're blemished skin-prone—that's a serum!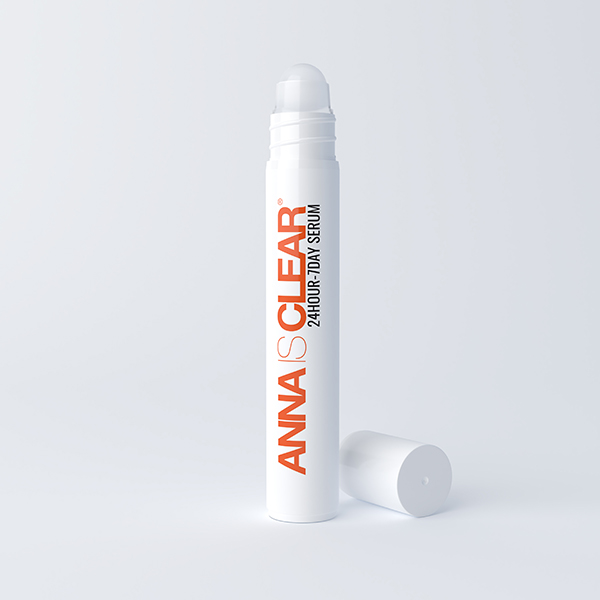 What is a serum?
A serum is a product that contains concentrated amounts of one or two key ingredients designed to target specific skin care needs. Serums differ from moisturizers and creams in that they create more powerful results for specific skin care needs. So in general no matter what skin issue you're trying to address, from anti-aging to blemished skin or you just want perfectly glowing skin, there's a serum that can help.
Serums are light and tend to absorb more quickly as most are water-based. They usually don't have heavy ingredients like petrolatum, mineral oil, or other oils. Furthermore they usually come in an eyedropper-style container, and go on after toner and before moisturizer.
For Anna is Clear® we didn't decide for an eyedropper application but we decided for a roll-on application. This way you don't have to touch the formulation or rub the problem area preventing it from extra infections. Next, you only use a minimum amount of serum. With a few ml you can do several months(!) and this cost efficiency is one of the reasons Anna is Clear® became finalist at the Travel retail Awards 2020.
In short: Serum's are the workhorses of any skincare routine, in that they deliver the most powerful results.
The use of effective products
We found that it's important to keep balancing your skin whole day through for the best result against blemished skin. Therefor we stimulate to use the roll-on a minimum of 4 to 5 times during a day depending of your needs. The packaging is chosen to act as an on-the-go-care product. 24 hours and 7 days a week ready to use when necessary.
In case of feminine monthly hormonal fluctuations increase the use 14 days before your period. Increasing the use just before these fluctuations will improve the microbiome and support preventing blemished skin with break-outs just before your period.
Anna is Clear® statement is "Why should you use effective formulations only once a day?"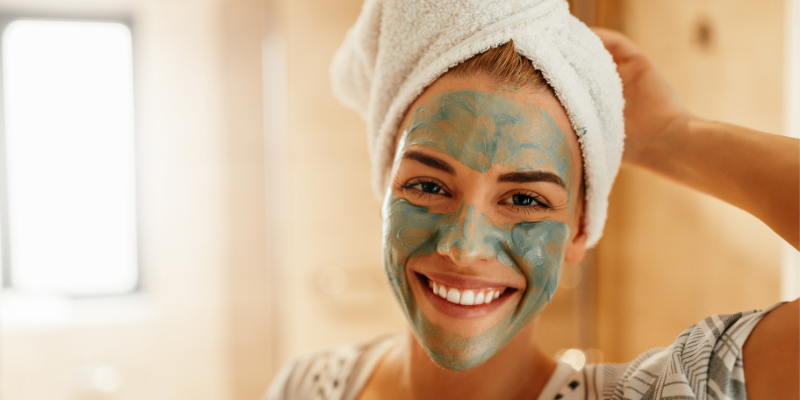 The downside of a serum
Because serums are highly concentrated, they can deliver a big dose of good-for-you ingredients that penetrate deeply into the skin. However, that also makes them potentially irritating. If you're already managing your blemished skin with products that can be irritating such as a prescribed cream or spot treatment, adding a serum might be too much. If the serum contains harsh ingredients first try the serum at a small part of the skin (check a summary of harsh ingredients often used in serums for blemished skin below!).
Please note that Anna is Clear® is based on non-harsh ingredients from natural origin but it contains a rye ferment. Therefor in general isn't suitable for people with a gluten allergy.
24/7 control
We always wonder why people use effective formulations only once a day. By carrying the Anna is Clear formulation 24/7 with you you're able to help the skin any moment of the day. When you've hormonal fluctuations (many women break out 10 to 7 days before their period) use Anna is Clear more intensive just before a known fluctuation.
White/blackheads are visually annoying but can be treated. The unique water soluble beta-glucans within Anna is Clear® are able to help and maintaining the balance within the natural microflora 24 hours 7 days in the week via an easy to care packaging. Therefor we call it on-the-go-skincare!
Happy skin, happy life!